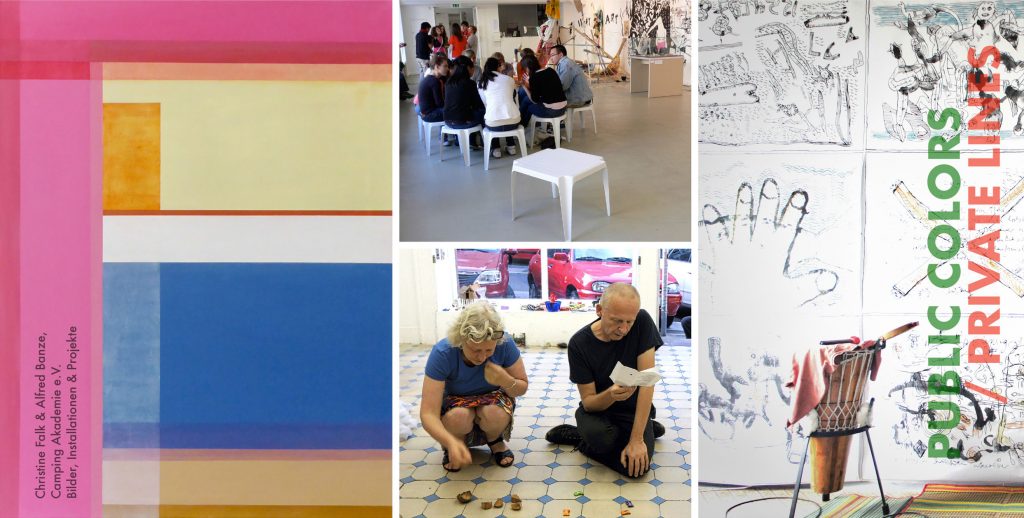 CHRISTINE FALK & ALFRED BANZE / CAMPING AKADEMIE e.V.
BILDER, INSTALLATIONEN & PROJEKTE
Die Ausstellung "Public Colors / Private Lines" zeigt Malerei, Zeichnungen und Videos von Christine Falk und Alfred Banze sowie partizipative Projekte, die sie mit ihrem Verein Camping Akademie e.V. in den vergangenen 10 Jahren in Berlin und in aller Welt realisiert haben, dabei oft in Schwellen- und Entwicklungsländern. Im Jahre 2017 in China entstandene Arbeiten bilden ein Zentrum der Ausstellung. Die Sammlung des Stadtmuseums wird einbezogen.
AUSSTELLUNG vom 28. April bis 24. Juni 2018
Gotisches Haus, Breite Strasse 32, 13597 Berlin Spandau
Mo – Sa 10 bis 18 Uhr, So 12 – 18 Uhr
VERNISSAGE am Freitag, 27. April 2018 um 19 Uhr
Performances von Dawa Frog Wing, Lijiang Studio, USA/China
und Arief Yudi Rahman, Jatiwangi Art Factory, Indonesien
Begrüßung: Gerhard Hanke, Bezirksstadtrat und Ralf F. Hartmann, Kulturamt Spandau
FINISSAGE am Mittwoch, 20. Juni 2018 um 19 Uhr Musikperformance mit Kopi Kaputa
Lesung mit Christine Falk, Reiseerzählungen
---
CHRISTINE FALK & ALFRED BANZE / CAMPING AkADEMIE e.V.
PICTURES, INSTALLATIONS & PROJECTS
The exhibition "Public Colors / Private Lines" shows paintings, drawings and videos by Christine Falk and Alfred Banze, as well as participative projects that they have realized with their association Camping Akademie e.V. in the past 10 years in Berlin and around the world, often in Emerging and developing countries. New works created in China in 2017 form a center of the exhibition. The collection of the city museum is included.
EXHIBITION April 28 to June 24, 2018
Gothic House, Breite Strasse 32, 13597 Berlin Spandau
Mon – Sat 10am to 6pm, Sun 12am to 6pm
VERNISSAGE on Friday, April 27, 2018 at 7pm
Performances by Dawa Frog Wing, Lijiang Studio, USA / China
and Arief Yudi Rahman, Jatiwangi Art Factory, Indonesia
Welcome: Gerhard Hanke, district councilor and Ralf F. Hartmann, cultural office Spandau
FINISSAGE on Wednesday, 20 June 2018 at 7 pm Music performance with Kopi Kaputa
Reading with Christine Falk, travel stories