Camping Akademie e.V. realisiert partizipative Projekte mit dem Schwerpunkt Dialoge von Künstlern aus Berlin und aus Schwellen- & Entwicklungsländern. Ausstellungen, Events im öffentlichen Raum, Workshops, Performances & Talks ohne festen Standort und temporär in Berlin & weltweit, mit KünstlerInnen und KulturaktivistInnen, Kindern, Jugendlichen, Erwachsenen & SeniorInnen.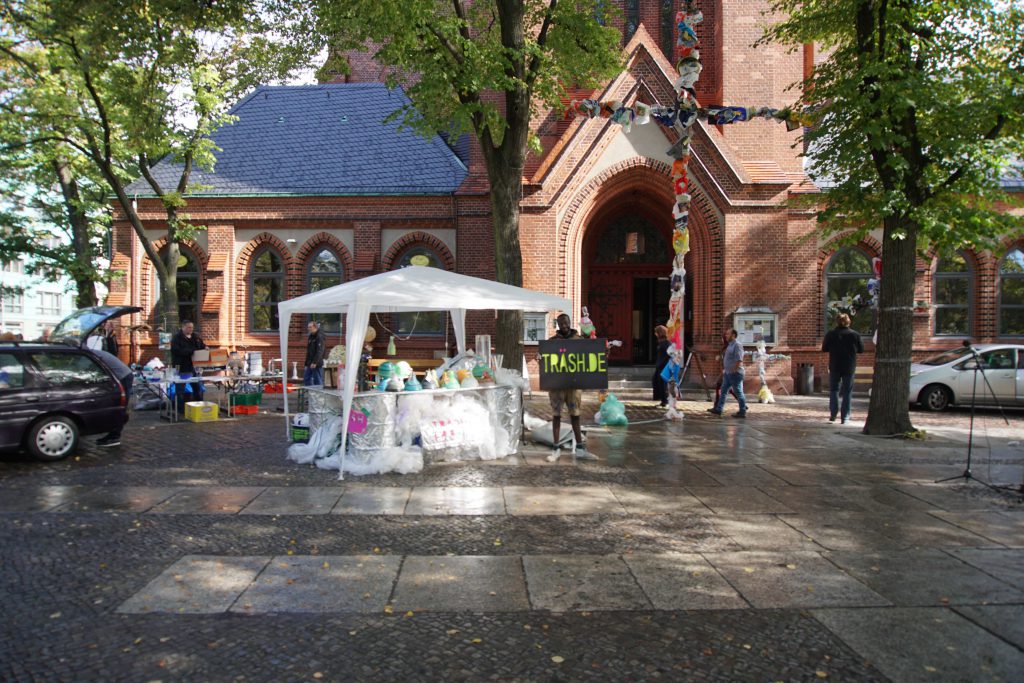 "Social Plastic" Project, Berlin Moabit, 2019
Unsere wichtigsten Projekte: Social Plastic 2019/20. Public Colors / Private Lines, 2018. Art / Community / Art, 2018. Cambodian Berlin, 2017. Deutsch 1914 / Papua Niugini 2014. Exotika 2013. HOPE / United Nations Revisited, 2011/12. Another China, 2009. The Banyan Project, 2004-11. Förderungen: IFA, Kunstfonds, Senat Berlin, Goethe-Institut, A. Amt, Kulturelle Bildung, BKJ, Aktion Mensch,Ausländische Partner. Seit 2018 Mitglied Netzwerk Berliner Projekträume & -initiativen.
We have worked with these Berlin artists:
Veronika Radulovic. Jean-Ulrick Desert. Ultra Art Fair Unlimited. Stephan Groß. Torsten Streichardt. Carmen Mörsch. Clea T.Waite. Thorsten Fleisch. Juliane Heise. Michael Vorfeld. Birgit Kammerlohr. Moritz R. Barabara Eitel. Juliane Laitzsch. Christine Niehoff. Ingeborg Lockemann. Maurice De Martin. Jacob Roepke. Patrick Jambon. Alexandra Holownia. Ilse Ermen. Michel Aniol. Kim Dotty Hachmann. Carola Rümper. Force Raik. Tanya Barnau-Sythoff. u.v.a.
And these artists from abroad:
JAF, Indonesia.Vitshois Bondo, RD Congo. Guy Wouete, Cameron. Sakarin Krue On, Thailand. Amrit Chusuwan, Thai. Mu Yunbai, China. Na Yingyu, China. Dominique Zinke, Benin. Kofi Setordji, Ghana. Riki Tangaroa, Cook Is. Aye Ko, Myanmar. Jiandyin,Thai. Michael Mel, PNG. Florence Kamel. PNG. Eyuser, W-Papua Indonesia. Ratoos Haoapa Gary, PNG. Dawa Frog Wing, USA. Arief Yudi, Indonesia. Don Flores, Philippinnes. Duskin Drum, USA. Petra Johnson, GB. Skall, France. Andreas Dettloff, Fr-Polynesien. Winkler/Köperl, D. Rolf Hinterecker, D. Susanne Themlitz, Portugal, Damo Suzuki, D. Andreas Köpenick, D. u.v.a.
Camping Akademie e.V. implements participatory projects with a focus on dialogues by artists from Berlin and emerging and developing countries. Exhibitions, events in public space, workshops, performances & talks without a fixed location and temporarily in Berlin & worldwide, with artists and cultural activists, children, young people, adults & seniors.
Our most important projects: Social Plastic 2019/20. Public Colors / Private Lines, 2018. Art / Community / Art, 2018. Cambodian Berlin, 2017. German 1914 / Papua Niugini 2014. Exotika 2013. HOPE / United Nations Revisited, 2011/12. Another China, 2009.The Banyan Project, 2004-11. Fundings: IFA, Art Fund, Senate Berlin, Goethe Institute, Auswärtiges Amt, Cultural Education Berlin, BKJ, Aktion Mensch, foreign partners. Since 2018 member of the Network of Berlin Project Spaces & Initiatives.
Mit dem Projekt SOCIAL PLASTIC erkunden wir Umwelt-Schutz/Bewusstsein & Bezüge zu lokaler Kultur / Subkultur: Wie gehen wir mit unserem Plastikmüll um, zuhause, in unserem Land, weltweit? Im Sinne der "Sozialen Plastik" von Joseph Beuys ist SOCIAL PLASTIC ein Experiment zu kollektiver Selbstorganisation. SOCIAL PLASTIC begann 2018 in Kooperation mit der Künstlergruppe Baan Noorg in Thailand. Mit Bewohnern des Dorfes, Künstlern, Kindern & buddhistischen Mönchen bauten wir eine buddhistische Stupa & veranstalteten eine "Beerdigung des toten Plastik". Mit der Künstlergruppe Jatiwangi Art Factory in Indonesien, mit Bewohnern, Müllarbeitern & Imamen entwickelten wir Anfang 2019 einen Plastikverbrennungsofen-Prototyp in der Form eines Heiligen-Grabmales & veranstalteten einen muslimischen Event mit Predigen, Gesprächen & traditionellem Essen. Im September 2019 stellten wir in Kooperation mit der evangelischen Gemeinde Tiergarten und dem Ortstermin Festival Moabit vor der Heilandskirche große Kreuze aus Plastikmüll auf, dazu fand ein Programm mit Andachten, Infostände,Vorträge & DIY-Workshops statt.
Im Herbst/Winter 2020 wollen wir Social Plastic mit einem weiteren Modul in Berlin fortsetzen, dazu bereiten wir wieder ein Programm mit Beteiligten aus Berlin und von Auswärts vor.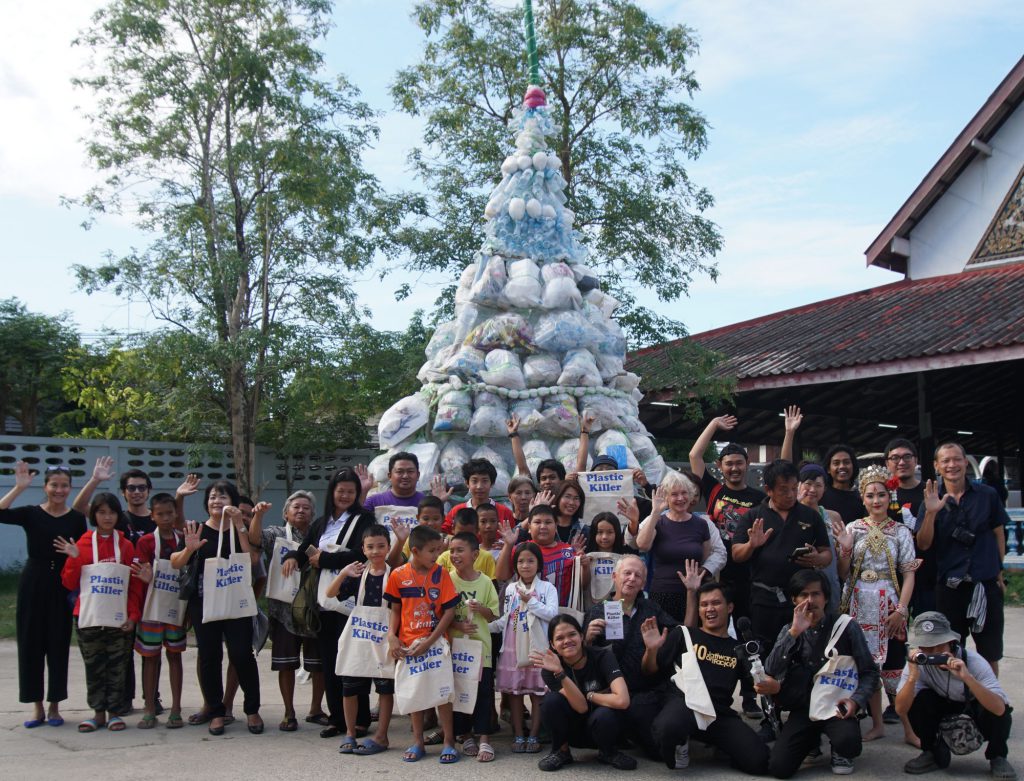 "Social Plastic" Project, Nongpho, Thailand, 2018
With the project SOCIAL PLASTIC, we explore environmental protection / awareness & references to local culture / subculture: How do we deal with our plastic waste, at home, in our country, worldwide? In the sense of "social sculpture" by Joseph Beuys, SOCIAL PLASTIC is an experiment on collective self-organization. SOCIAL PLASTIC started in 2018 in cooperation with the artist group Baan Noorg in Thailand. With residents of the village, artists, children & Buddhist monks, we built a Buddhist stupa & organized a "funeral of the dead plastic". In early 2019, with the artist group Jatiwangi Art Factory in Indonesia, with residents, garbage workers & imams, we developed a plastic incinerator prototype in the shape of a saint's tomb and organized a Muslim event with preaching, talks & traditional food. In September 2019, in cooperation with the protestant parish of Tiergarten and the on-site event Festival Moabit, we set up large crosses made of plastic waste in front of the Heilandskirche.There was also a program with prayer, information stands, lectures and DIY workshops.
In autumn / winter 2020 we want to continue Social Plastic with another module in Berlin, for this we are again preparing a program with participants from Berlin and away.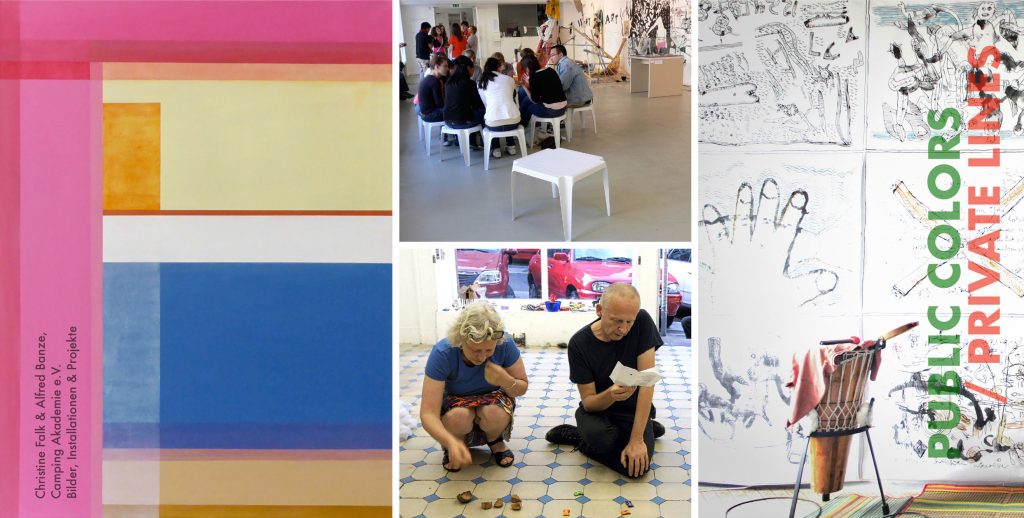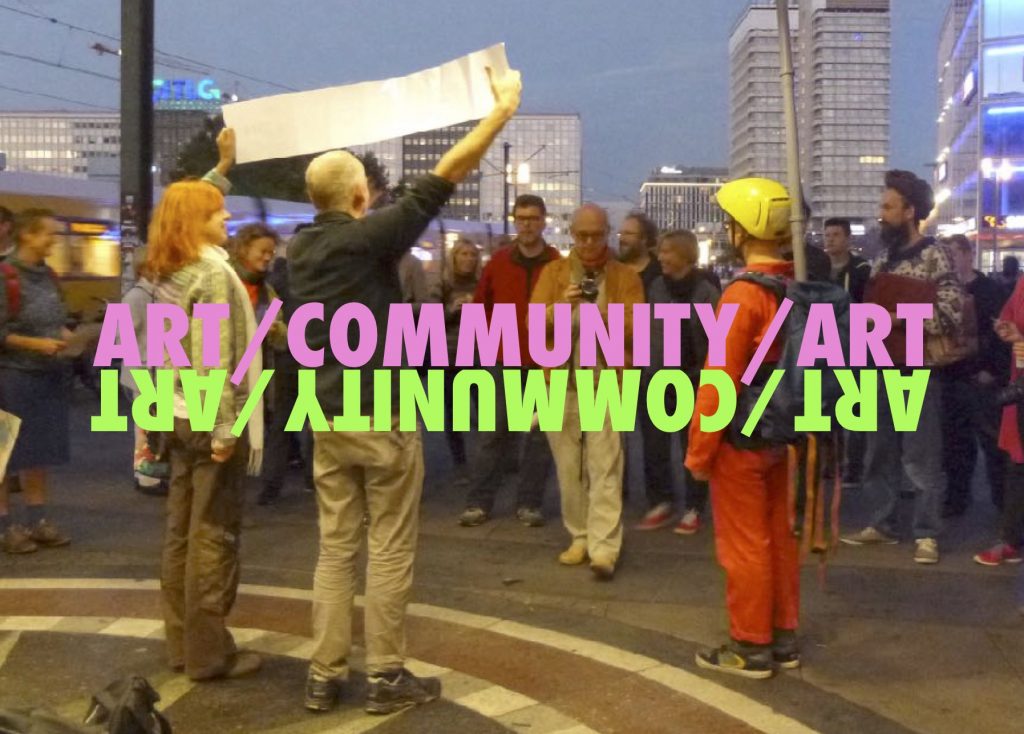 Art / Community / Art Symposium, Kunstquartier Bethanien, Berlin-Kreuzberg 2018
Angefangen hat alles auf einem Campingplatz in dem Dorf Lohmen in Mecklenburg-Vorpommern, bei dem wir einen Workshop für jugendliche Touristen und Dorfbewohner angeboten haben. Daher der Name.
Camping Academy makes participatory art projects with children and young people. It started on a camping site in the small village Lohmen in Mecklenburg-Vorpommern, with a Workshop for young tourists and village inhabitants. Therefore the name.
Camping Akademie e.V.
Verein für Kunst-, Kulturaustausch- und Bildungsprojekte
Atelier Christine Falk, Langhansstrasse 7A
13086 Berlin
Germany
Tel. / Fax: ++ 49 (0)30  9269712
abanze@web.de
christinefalkberlin@yahoo.de